MegaSeg DJ for Mac offers all the core mixing features you need plus lots of extras. It combines fast access and elegant management of any media library, including integrated iTunes playlists, with features designed for party, club, and mobile DJs. MegaSeg DJ delivers the tools.
New Version
We've added support for the latest OS X, multi-process AV, faster MIDI with new controller presets, waveform beat syncing with multitouch control, cover art, video browsing, 3x Automatic Volume Control, title and album separation rules, live stream events, improved scheduler rotations, integrated iTunes playlists, and many other improvements.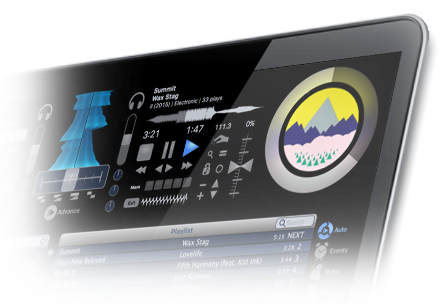 Mix It Up
MegaSeg's real‐time beat match features allows you to mix with automatic or manual cross‐fades. The Mixer includes an Auto‐BPM button to match the tempo of the next and current songs. With MegaSeg, you are in full control of the mix.
Preview Power
MegaSeg supports multiple outputs to preview and cue tracks. With a USB audio interface or AirPlay compatible device, you can cue in your headphones (no mixer required) and always stay on beat.
Rock Steady
System stability is key. Unlike many DJ programs, MegaSeg is built from the ground up to work exclusively on Mac OS X — a powerful and stable UNIX‐based system. Our users praise MegaSeg's rock solid performance, intuitive features, and clean design.
Go Pro
Want more power? The Pro edition adds video playback for VJs and many advanced features. Customize the interface like no other with a robust set of color coding and library display options. Automatically generate playlists with event triggers, set rules for artist separation, note requests with reminders, and much more!
▸ Compare Features
Try a Mac
Visit your local Apple Store and download the MegaSeg demo for a test drive. You'll discover with MegaSeg on a Mac, you'll have less technical problems and better productivity, plus they're less expensive to own over time. The MacBook and MacBook Pro are great systems for Mobile and Club DJs.
DJ and Pro Features
Wave View Beat Syncing
iTunes Store Compatible
Plays iTunes protected audio
Video Playback
Events and Playlist Scheduling
Superior Stability
Multi‐Channel Outputs
Automatic or Manual Control
Request List with notes
Hot Key Sound Effects
Ambient Video Playlist
Logging and Analytics
Artist separation rules
Easy to use interface
Teamwork: Library & Playlist
MegaSeg has a large display area to view your library and playlists at the same time. This allows you to excel at tweaking your playlist on‐the‐fly. With full keyboard and mouse control, it's easy and intuitive to use.
Streamlined Setup
Imagine yourself free from carting around all your CDs, players, and a mixer. With only MegaSeg, a MacBook, and powered speakers, you have a complete compact system with instant access to your entire music library!
Expand Your DJ Business
You can inexpensively add more MegaSeg systems to your growing DJ business, and double or triple book your weekends. Your entire crew can benefit from the same well‐tuned library, complete with perfect pre‐set segues. With MegaSeg DJ software, all your DJs can perform smooth and consistent quality gigs.
User Buzz
Read success stories of how MegaSeg is put to work by our users.
"It's undoubtedly the best system I have worked with."
– Darren Cave
"MegaSeg breaks the mold on what a DJ program should be."
– W. Guy Finley
"MegaSeg's interface is well thought out, direct and elegant."
– Charlie Wilson
"From the way it looks to how it performs, MegaSeg is brilliant. It puts PC apps to shame."
– Matthew Webb
"MegaSeg saved my DJ life."
– Mike Early
Pick It Up Fast
Buy MegaSeg as an instant download, and never worry about losing the program. You can easily make a backup copy or simply download it again.